This puzzle has an amazing series of Medusa calls, using many different rules. It ends with Rule 7. I wanted to show a second puzzle to emphasise that the cell we are comparing the Medusa net to can have any number of candidates. These are 4,6 and 9 in

C6

. Green candidates have been turned yellow because they are eliminated, but you can see that the 4, 6 and 9 can all see the same color somewhere along the column or row.

You can be certain that it will be one color or the other, never equally both. Because this strategy is easier to spot and somewhat follows on from Rule 5, the solver looks for it before Rule 6. But too late to re-number them now. Well spotted Anton!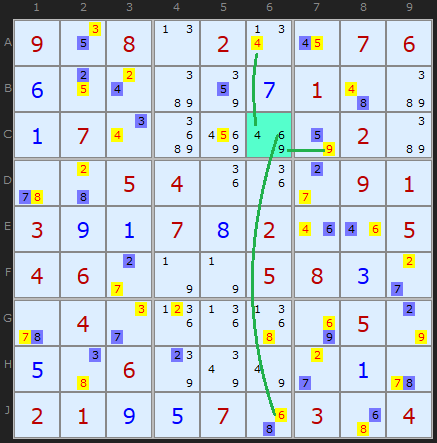 Rule 7 using 3 candidates in a cell: Load Example or : From the Start