(Keyword: A Locked Set is and group of N cells that contain N number of different candidates. They must all 'see' each other as well. A solved cell is the simplest locked set as N=1.)

Consider row D in this puzzle. It doesn't look an especially worthwhile 'block' that might split in one place. We have a 7 in

D5

which is nice, plus a 1 in

D6

. The 1 in

C4

means we can calculate the value of

D3/D4

(cyan box, which is 13 - 1, or 12). Now what about the last cage in the row? We have a 2 in

D9

but the fascinating fact about this cage is the Naked Pair in

D7

and

D8

. This is also a Locked Set just like any solved cell.

Because 4 and 5 are the only two values left for these two cells, we know they must sum to 9 - even though we don't know which way round they will be (but that's not important now). We can mentally split 5-cell cage with a value of 27 and know with certainty that the 'innie' cells contribute 11 to row D. So we can split the block in the first cage after all!

Using Locked Sets in this manner is extremely useful for Innies and Outies as well.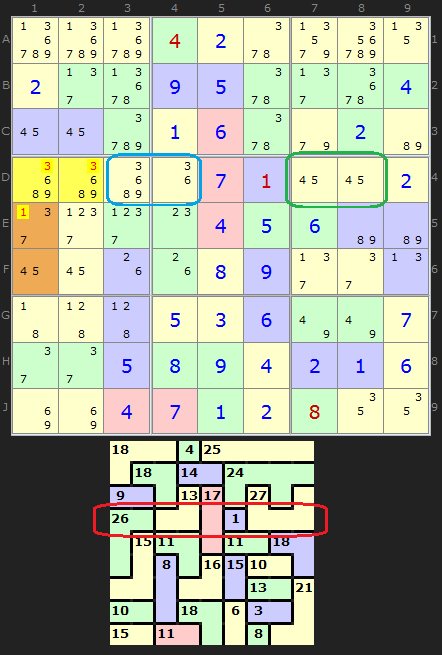 Split Cages to fill Blocks