Lastly in this Sudoku we find one of the more common types of Digit Forcing Chain, one that fixes a digit in another cell.

E6

is the start cell 8 is the digit we are flipping ON or OFF. If OFF we take the blue chain around the board to

H2

where 1 gets turned ON. This chain is:
-8[E6]+8[E4]-8[B4]+8[B1]-6[B1]
+6[B2]-6[D2]+4[D2]-4[H2]+1[H2]
The consequence of 8 in

E6

being ON also shows that 1 in

H2

must be ON as well. The second, purple chain is

+8[E6]-3[E6]+3[H6]-1[H6]+1[H2]

.
So, whether

E6

is 8 or not the chains imply

H2

must be 1 and that opens up the puzzle to the end game.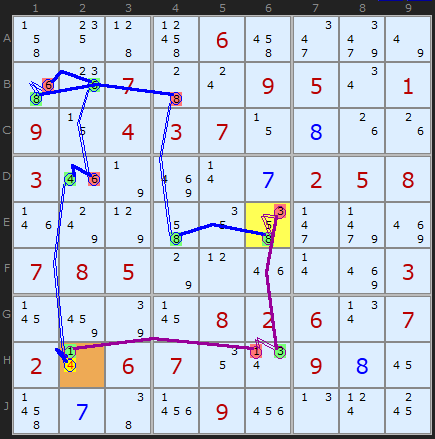 Figure 3: Third Digit Forcing Chain