In Figure 1 we have highlighted the number 3. Amongst all the candidate threes is a loop of five 3's. They form four

perfect pairs

:
R5C7 - R5C5 - along the row
R5C5 - R7C5 - along the column
R7C5 - R7C9 - along the row
R7C9 - R4C9 - along the column

To close the loop we have an

imperfect triplet

in the sixth box.

The question is: can a closed loop of five candidate cells be constructed with each cell perfectly-paired in two ways with the next linking cells in the loop? The answer is no. Such a formation is impossible in a Sudoku puzzle. In such a loop, if you "placed" a candidate in any one of the cells and followed the consequences around the loop, you'd generate an automatic contradiction - forcing the number to disappear entirely from a row, cell or block, or to appear twice in a single line or block, depending on how you proceed.

(Note: You have to turn off Simple Colouring, Remote Pairs, XY-Chain, BUG and Forcing Chains).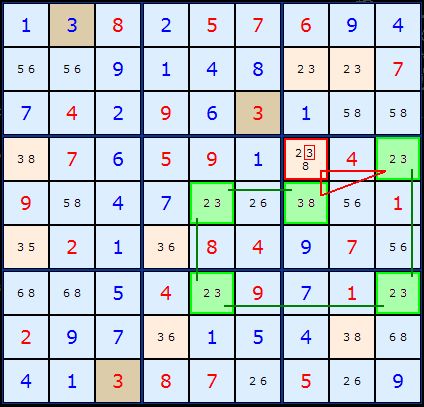 Guardian 1: Load Example or : From the Start