Pointing Pairs, Pointing Triples



Looking at each box in turn there may be two or three occurrences of a particular number. If these numbers are aligned on a single row or column (as a pair or a triple) then we know that number MUST occur on that line. Therefore, if the number occurs anywhere else on the row or column outside the box WHICH THEY ARE ALIGNED ON then it can be removed. The pair or triple points along the line at any numbers which can be removed.

Here are two Pointing Pairs at the same time on this tough rated puzzle. The 3s in

B7

and

B9

are alone in box 3 and they are aligned on the row. So looking along the row we can remove all the 3s in Box 1. In a similar manner the 2s in

G4

and

G5

point along the row to

G2

.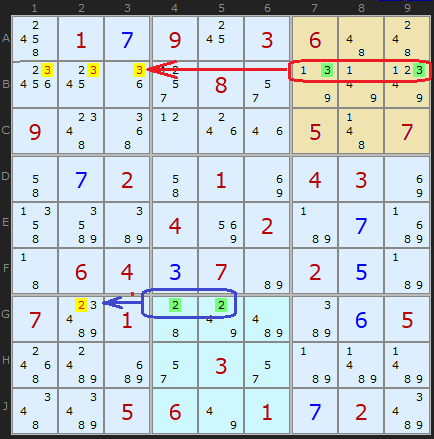 Pointing Pairs: Load Example or : From the Start