I coined

Remote Pairs

(back in 2005) to distinguish this new strategy/test/check, whatever, from the simpler more obvious pairs. Since first writing about it the strategy has been expanded in several directions and is more common than first thought.

Pairs occur where two or more cells have the same two possible numbers. A

locked pair

is two such cells which lock each other in. For example, in the diagram on the right in the top row: 6 and 9 occur twice (labelled

A

and

B

) as a pair on the same row. This means the number 6 and the number 9 MUST both occur in these two cells. We can therefore eliminate other 6s and 9s from the same row. Same rule applies to boxes and columns. This forms the basis of Test 3 in my solver.

On the diagram on the right I have marked all

locked pairs

with a red line. These are

AB, AC, BD, CD

and

DE

. You can load and view the whole of this board from the main Sudoku page. Look for Remote Pair Test in the drop-down list of examples.

The point of this test/strategy is that we want to eliminate the 9 from cell

Z

and leave the 8. Can we do this logically, or must we guess? What about cell

X

which also looks like a candidate for removing the 6 and 9?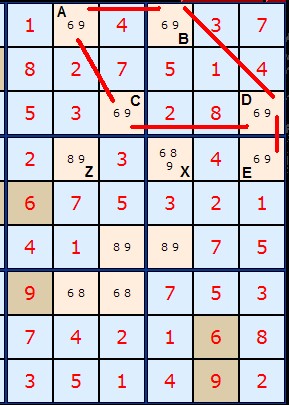 Remote Pair 1