Sudoku fans will be interested to see this beautiful Sudoku art created by Jim Sullivan in California, USA. He originally wrote to me about finding a Perfect Sudoku - one where each number is in a different position in every box. Since then I've learnt how to create these types of Sudoku puzzles and they can be solved in the Colour Sudoku Solver.

Jim has now created three of these wonderful wood inlay pieces and I'm pleased to be able to show his third example here.

Jim writes that all of his wood is domestic and salvage wood that he buys, mostly on eBay, from small mills that do not deal in commercially produced wood, getting their logs from dead fall and tree removal services.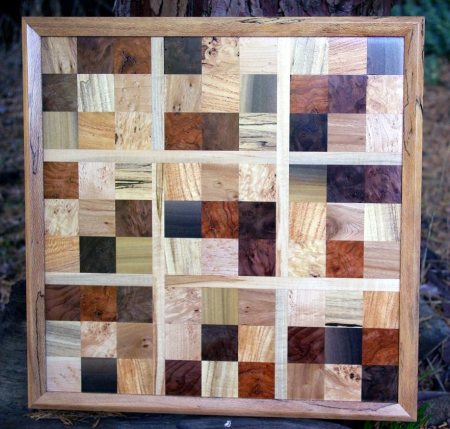 Click to enlarge. Actual size: 16"x16"x1.4"