This is an excellent candidate eliminator. The name derives from the fact that it looks like an X-Wing - but with three corners, not four. The forth corner is where the candidate can be removed but it leads us to much more as we'll see in a minute.

Lets look at Figure 1 for the theory.



A, B

and

C

are three different candidate numbers in a rectangular formation. Three of the corners have two candidates

AC

,

AB

and

BC

. The cell marked

AB

is the key. If the solution to that cell turns out to be

A

then

C

will definitely occur in the lower left corner.If

AB

turns out to be

B

then

C

is certain to occur in the top right corner.

C

is a complementary pair.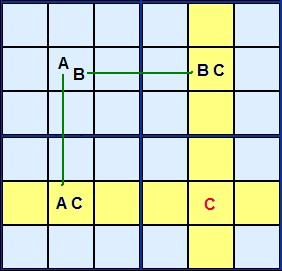 Y-Wing Figure 1