If you are searching for puzzles or how to solve logical puzzles like Sudoku then you are in the right place. Andrew's carefully calibrated Sudoku puzzles and variants have been published in major newspapers and puzzle books for many years. He has published a book on the Logic of Sudoku and supports seven highly acclaimed step-by-step solvers. Andrew works full time at Syndicated Puzzles Inc.



Check out Jim Sullivan's Sudoku wood inlays. *new



Looking for help with Sudoku?

There are now solvers for Sudoku, Jigsaw Sudoku, Sudoku X, Killer Sudoku, Colour Sudoku, KenKen and KenDoku and extensive strategy documentation.


Looking for puzzles for your local newspaper?


We have a great no-cost solution for any community newsletter, magazine, school or collage newspaper:

Print ready

Str8ts and/or Sudoku files in PDF format - simply register and download. Our four layouts are organized into five time periods: 3 times a week, twice a week, weekly, every two weeks and monthly. For Daily prints, please let us quote.
Register and Download link.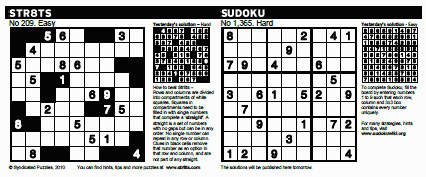 This is also the home page for Andrew Stuart, Internet Applications developer, consultant, contractor and creator of Scanraid Search Technology products. Currently available for consultancy and development - Read my Pitch! An example of this is Labhoo.com, a Google-style search engine for the Life Sciences industry.



Other Tools: index.dat Analyser

I also have a blank page.

I am now permanently based in Norfolk, UK.



---