In this example our four-value hinge is

B4

marked in brown. The three outlier cells, marked in yellow each contain a 3 (our Z) plus one other number unique to themselves and the hinge. It's important that these extra numbers really are common only to the hinge and there are no pairs like 3/6 and 3/6 in two of the yellow cells.

There is only one cell that all four of the WXYZ can see -

C4

. It has a 3 which can be removed. No matter what number is the final solution in the hinge, one of the WXYZ must be a 3.

Note (10 Oct 2011): Due to changes in the solver the previous example became outdated without turning off lots of strategies. This new example seems 'necessary' in the sense that no prior strategies make progress - and its therefore quite interesting.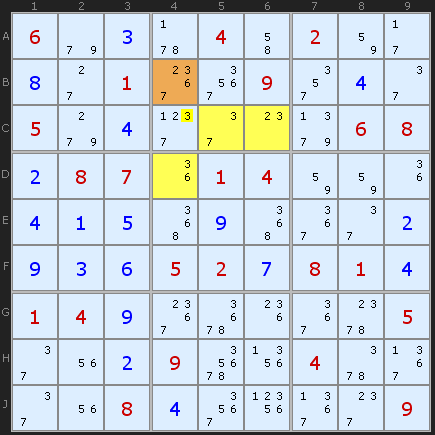 WXYZ-Wing example: Load Example or : From the Start