This rule is shared with 3D Medusa.

Having identified all the links for a candidate number, we can look elsewhere for 'off-chain' eliminations. Simply put, if you can spot a candidate X that can see an X of both colours - then it must be removed. In the same Sudoku puzzle as above, but one step before (if you run it through the solver), a Rule 5 example is to be found.

At this stage of the puzzle there are fewer links to be found on candidate 5. But if we colour them we find something interesting going on with the 5 in

E3

. It can see the blue 5 in

E9

and the green 5 in

G3

. We know the either blue 5s will be the solution or the green 5s will be the solution - so that leaves no room for any other 5 that happens to see both colours.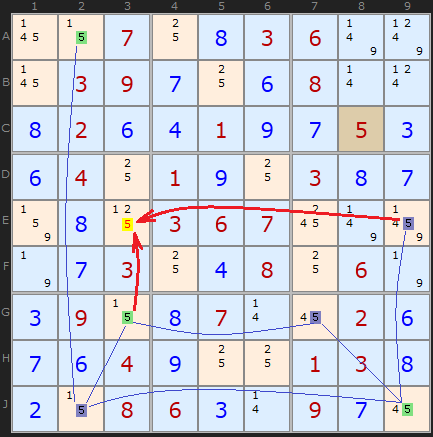 Single Chains Rule 5: Load Example or : From the Start