11th April. I'm pleased to announce that more efforts to decrypt and restore the missing comments and feedbacks for the last year or so have been successful. I've also restored the Wiki documentation to the pre-hack state. Please let me know any further 404s or missing links, images and so on, corrections always appreciated.
Looking for puzzles for your local newspaper?
We have a great no-cost solution for any community newsletter, magazine, school or college newspaper:
Print ready
Str8ts and/or Sudoku files in PDF format - simply register and download. Our four layouts are organized into five time periods: 3 times a week, twice a week, weekly, every two weeks and monthly. For Daily prints, please let us quote.
Register and Download link
.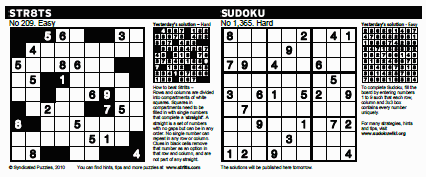 This is also the home page for
Andrew Stuart
, Internet Applications developer, consultant, contractor and creator of Scanraid Search Technology products.
I also have a
blank
page.
More Random Puzzle Stuff...
---