New Secure Site
I'm pleased to announce that I have moved to a secure version of the site using a SSL Certificate. Google have punished sites for staying on open http so this is mainly to curry favour with the search engines. Your Sudoku solving will now be encrypted to your browser.
Looking for puzzles for your local newspaper?
We have a great no-cost solution for any community newsletter, magazine, school or college newspaper:
Print ready
Str8ts and/or Sudoku files in PDF format - simply register and download. Our four layouts are organized into five time periods: 3 times a week, twice a week, weekly, every two weeks and monthly. For Daily prints, please let us quote.
Register and Download link
.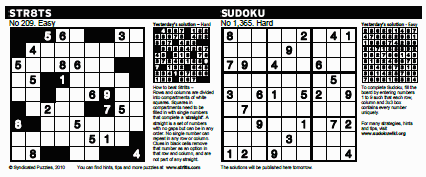 This is also the home page for
Andrew Stuart
, Internet Applications developer, consultant, contractor and creator of Scanraid Search Technology products.
Other Tools:
index.dat Analyser
I also have a
blank
page.
I am now permanently based in Tewkesbury, Glocestershire, UK.
More Random Puzzle Stuff...
---