Looking for puzzles for your local newspaper?
We have a great no-cost solution for any community newsletter, magazine, school or college newspaper:
Print ready
Str8ts and/or Sudoku files in PDF format - simply register and download. Our four layouts are organized into five time periods: 3 times a week, twice a week, weekly, every two weeks and monthly. For Daily prints, please let us quote.
Register and Download link
.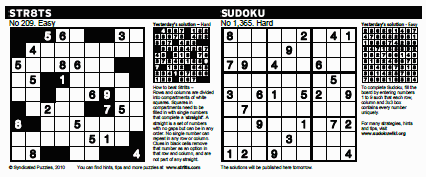 This is also the home page for
Andrew Stuart
, Internet Applications developer, consultant, contractor and creator of Scanraid Search Technology products.
I also have a
blank
page.
More Random Puzzle Stuff...
---