25th Jan 2010

- Vastly superior Chaining illustrations on solver

I'm very pleased with a new graphical element I've added to Chaining strategies. Where chains are used the Sudoku solver will now draw those chains on the board. Previously I could only highlight the cells which were part of the chain but this was difficult to follow. Now Strong and Weak links are plotted between candidates. The new illustrations can also plot grouped ALS cells, as in the example to the right.

This example, from sudoku.com.au, has numerous instances of chaining strategies and tests the new illustrations very well - try loading this puzzle and stepping through.





I am using a very simple but effective javascript library by Walter Zorn (www.walterzorn.de/en).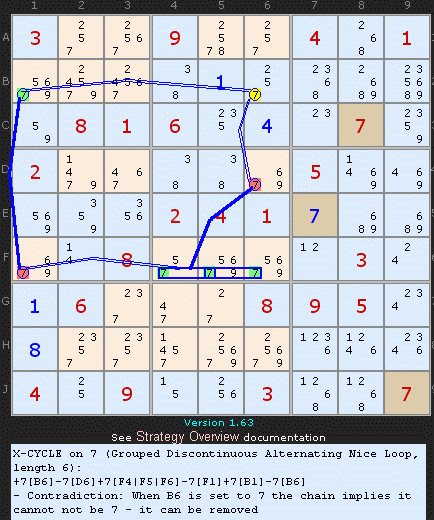 Example of the new Chaining illustrations: From the Start