Sudoku Wood Inlay Art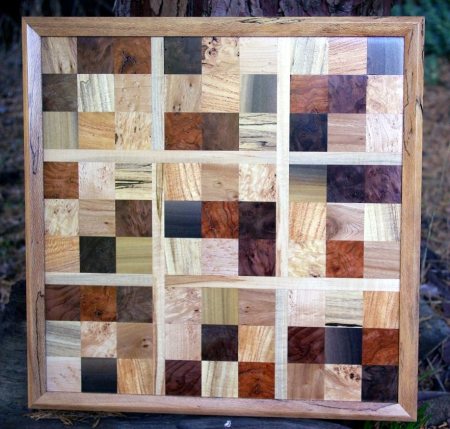 Sudoku fans will be interested to see this beautiful Sudoku art created by Jim Sullivan in California, USA. He originally wrote to me about finding a
Perfect Sudoku
- one where each number is in a different position in every box. Since then I've learnt how to create these types of Sudoku puzzles and they can be solved in the
Colour Sudoku Solver
.
Jim has now created three of these wonderful wood inlay pieces and I'm pleased to be able to show his third example here.
Jim writes that all of his wood is domestic and salvage wood that he buys, mostly on eBay, from small mills that do not deal in commercially produced wood, getting their logs from dead fall and tree removal services.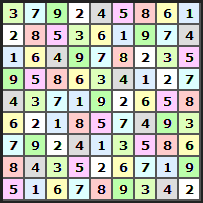 This board is based on the grid to the right.
The number match the types of wood used in the following list:
1 - Tulip Poplar
2 - Claro Walnut
3 - Siberian Elm
4 - Maple Burl
5 - Birdseye Maple
6 - Honey Locust
7 - Redwood Burl
8 - Spalted Hackberry
9 - Black Cherry Burl
Grid Dividers Ambrosia Maple
Frame Spalted Sycamore
Finish - Multi-coats clear lacquer. No stains were used.
The boards are 16" square and about 1.4" thick. The individual squares are 1.5" and the weight is a little under 5 lbs.
All come with hanging wire attached which is 1/4" recessed so it will hang flat on the wall

Jim's is selling his Sudoku woodwork for $225

He can be contacted on +1 (831) 438-4564 or you can write to him at micromech@pacbell.net




---